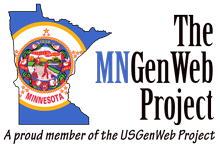 Minnesota 1865 Civil War Veterans Census

1865 MINNESOTA STATE CENSUS ONLY VETERANS IN SERVICE IN THE CIVIL WAR
BELOW ARE VETERANS THAT WERE NOTED ON THIS CENSUS TAKEN June 1, 1865

BERGEN TWP..
  JOHN PACKER
  OLE DOLVIN

GLENCOE TWP..
  DANIEL J. PETTYJOHN
  A.H. OR N. BROWN ?
  FREDERICK W. MORGAN
  ALEXANDER GRANT ?
  JOHN C. MASSEY
  SAMUEL SCHIMMING ?
  AXEL H. REED
  THOMAS JOHNSON
  ORLANDO GRAHAM
  EDWARD WHITE
  SAMUEL W. WHITE ...
  AMBROSE W. APPLIN
  JOHN K. COCHRAN
  JAMES ? C. EDSON
  F.M. REYNOLDS

GLENDALE TWP..
  NONE

HALE TWP..
  MICHAEL HARTH OR HARTT
  ABRAHAM DESNOR ?
  LUKE ? DESNOR ?
  JOHN DOYLE
  EMBRIN WILLIAMS
  FRANCIS NAVESTER ?
  GEORGE ___ ROSELLE ??
  CHRISTOFER ROSELLE ??
  WILLIAM ROSELLE ??

HELLEN TWP..
  THOMAS NIXON
  HIRAM P. KENNISON
  JOHN LENN ?
  FRANCIS MONIER
  FELIX COURNOYEG ?
  ALTTANNA CORNAZIEG ? BOTH SURNAMES SAME
  MARTIN STECK
  CHRISTAN SEPEL (LEPEL?)
  JOHN SCHULTZ
  LENHART PETERS
  HENRY PAULSON
  THEOPILE DURFREM ?
  ELIM ? SURFREM ?
  NEWTON C. LITTLE
  HERNY ANDERSON
  WILLIAM P. BATES
  JOHN RIGHTER ??
  LAWRENCE GILLICK JR.

HUTCHINSON & ACOMA TWP.
  ALLEN NOTT
  JOHN LUMLEY ?
  SMILDA ? RAMSEY
  AMBROSE RAMSEY
  CHARLES STAHL
  GEORGE BELDEN
  MADISON VAN EST. ?
  LUCY LANGLEY

PENN TWP.
  ISAAC HART
  JAMES HART
  CHARLES GOODRICH
  PATRICK GILLNER ?
  BOMNAN ? DWINNELL
  WELLESLEY OGILVIE
  MICHAEL MAYER
  ELI D. HERRITT ?
  WARREN HERRIT ?
  CLIFFORD A CARPENTER
  THOMAS H.B. HOLLINGSWORTH
  SAMUEL BROOM OR BROWN
  ALONZO BROOM OR BROWN
  CARL NUREMBERG
  CARL WENDTLAND
  WILLIAM YOLKY
  ____EVRICK ? BERGNER
  WILLIAM PAULSON
  JEREMIAH NOBLES
  DANIEL NOBLE
  FERDINAND GAUKE ?(OR GAULKE)
  L_____ STECK OR STICK
  FREDERICK KLOPFLEISCH
  ALEXANDER FEOFF ??
  SEBASTIAN ROHRENBECK
  BAPTISTE ROHRENBECK(SR. ?)
  HENRY LAMPIN OR SANKINS ?
  PHILLIP WEAVER
  WILLIAM JOHNSON (Martin Johnson's Ancestor)
  JOHN FORD ?

RICH VALLEY TWP..
  ISAAC PETTYJOHN

WINSTED TWP.
  PETER CREVIER

				BY MARTIN WM. JOHNSON
				514 WEST MENOMINEE ST.
				BELVIDERE, IL 61008-3142

				Conversion to Computer File Format
				By Carl C. Bloomquist
				18037 Naples St. NW
				Elk River, MN  55330-1615
MANY OTHER VETERANS BEFORE & AFTER 1865 MOVED WEST IN MINNESOTA &
TO OTHER STATES OUT WEST FOR FREE VETERAN HOMESTEAD GRANTS OF LAND.
SOME ENLISTED IN ILLINOIS OR WISCONSIN ETC.