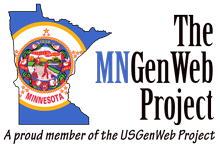 McLeod County Photo Album
If you have any McLeod County photos to share, please contact me.
Thanks, MNGenWeb adopt
(click on thumbnails to see full sized picture)


Vineyard Methodist Church contributed by Bill Carr

Vineyard Methodist Church demolition -- 1967 photographed by Marie/Mary (Peterson) Bloomquist


Fernando, MN c1914
Fernando is located in Round Grove township



Old store in Fernando, MN
The above contributed by Don Burke August 2002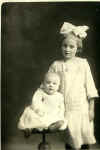 In this 1917 photograph are siblings Gladys V. and Palmer G. Nelsen. Gladys
(born 30 Nov 1907 Kenmare, ND) was the wife of Hutchinson, Optometrist Dr.
Clarence S. Jorgenson (born 24 Feb 1902 Hutchinson, MN). Gladys and Clarence were married 30 March 1926,
they had two children, a daughter Dwan Maryline (born 28 Feb 1928 Hutchinson, MN) and Irving R. (born 28 Feb 1930 in St. Paul, MN).



Photograph of Judy Klee's paternal Danish Great grandparents Mariane and Hemming Hansen (two center figures) with their eldest daughter Sarah F. seated on the left and their son-in-law Hans C. Hanson/Hansen seated on the right. Hans C. and Sarah had a little farm south of the town of Hutchinson (which is still there but has since been remodeled.) Sarah's parents Mariane and Hemming came to live with them in the fall of 1922.
Martha Elizabeth Hansen Josephson's 1936-1939 Autograph Book
The above contributed by Judy Klee February 2002