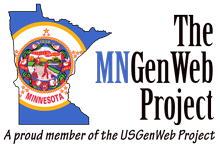 McLeod County Queries
Welcome to the Query page at McLeod County. Queries are listed by year and are alphabetized based on the first surname requested in each query.
If you are looking for a specific surname it may be easier to use the Surname Index rather than search through all the queries.
If you have submitted a Query, please check to see that we have the correct contact information for you.
Send your queries to me and I will add them to the 2015 Query Page as quickly as possible.
Be sure to place surname(s) in CAPS each time you type it.
MNGenWeb
---
Queries by Year
---
Home
© 2015 MNGenWeb Project